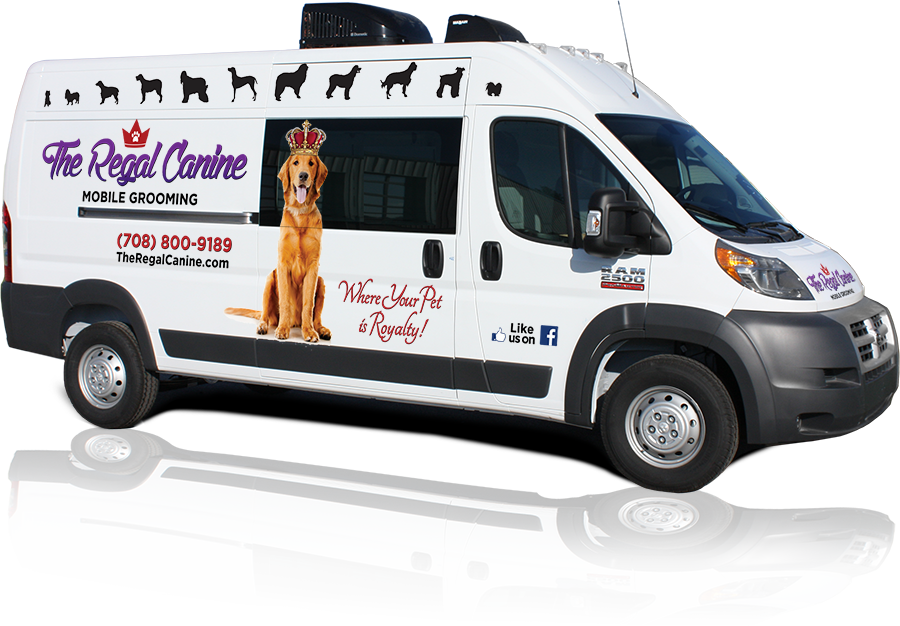 The Regal Canine operates from a self contained salon on wheels, customized to provide a complete grooming service for your pet. Warm and snug in the winter, cool and comfortable in the summer, we offer a luxury grooming service at your door, with an emphasis on the health, safety, and comfort of your pet.
Monday – Saturday:  9am – 7pm
Sunday: 10am – 6pm
Pricing
Prices vary based upon the breed and size of your pet.  Prices are also based on
Condition of your pet's coat (See policies on Matting)
Type of desired haircut and style
Temperament of the pet.
Services
Grooming services fall into two categories: Bath-Brush-Trim or BBT and Complete Haircut.
The Bath-Brush-Trim (BBT) service includes:
Nail clipping and filing
Ear cleaning and inspection
Brush and comb-out
Shampoo and conditioning using all natural products
Anal gland expression, if necessary. (talk to your groomer)
Hand-fluff dry
Bows or bandana and cologne as desired
Groomer's report and health alert. Groomers are not veterinarians! However, groomers may sometimes be a first line of defense against some health issues that may go unnoticed by pet owners. Please consult your veterinarian if your pet does have any health issues.
Complete Haircut services include all of the above and:
Styling to breed standard specifications
Styling to client's specifications.
| | | |
| --- | --- | --- |
| Size | Bath Brush Trim (BBT) | Complete Haircut |
| Toy (0-5 lbs) | $45 | $65 |
| Small (6-20 lbs: Shih Tzu, Maltese, etc) | $50 | $70 |
| Medium(21-40 lbs: Cocker Spaniet, etc. | $55 | $80 |
| Large (41-60 lbs: Springer, Lab, etc.) | $60 | $85 |
| X-Large (61-80 lbs: Std Pdl, Doodles, etc.) | $70-85 | $90-100 |
| XX-Large (81 lbs or more: Newfoundland, etc.) | $90-100 | $100-120 |
Additional, extra, or "add on" services include:
Any additional scissor trimming on BBT Services for breeds with furnishings like Golden Retrievers, etc: $15
                           -otherwise called a BBT with a trim all over
Tooth Brushing Service:  $12
               *Note: Our tooth brushing service will NOT remove Heavy tartar build up!
                A regular cleaning should be done by your veterinarian.
De-Shedding Treatment: Using a special de-shedding shampoo in combination with de-shedding tools.
                 Small Dogs  $10
                 Medium Dogs $15
                 Large Dogs $20
Specialty Shampoos for pets with flaky or sensitive skin including Oatmeal for dry skin and Tea Tree Oil for Sensitive skin:  $5
Shampoo for flea infestation: $10
**All prices are subject to change!